Cowon EK2 earphones are better
Author: Mike Date Posted:5 May 2016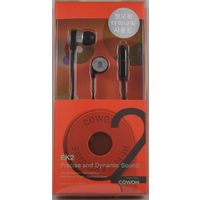 5 reasons why the Cowon EK2 earphones are better than ordinary earphones
This week I had the opportunity to try out the Cowon EK2 Earphones. The Cowon EK2 Earphones were created to achieve an optimal balance in all areas from bass to treble, and provides high resolution and rich sound. They include a high performance microphone and remote control enhancing the convenience of listening to the music with a smartphone.
These earphones are available in black and come with spare ear caps.

My First Impression:
When taking the Cowon EK2 Earphones out of the box, I noticed the length of the cord. I believe having a longer cord can benefit the user for many reasons. Having a longer cord prevents you from tugging on the ear caps uncomfortably. For example, it is practical for people who enjoy listening to music while exercising as the cord doesn't get in the way while they move their arms.
Next I noticed the material of the earphone cord and this assured me that the cord is durable. Also, the ear caps came to my attention. The ear caps are designed to fit into your ear perfectly without the fear of them falling out. The ear caps have "left" and "right" marked on each one to inform you of which ear cap fits which ear. The Cowon EK2 Earphones supply you with two different ear cap sizes to fit your ears perfectly.
Listening to music with these earphones, you can hear the balanced sounds even as you increase the volume. You don't experience an eerie sound with these earphones so feel free to blast the sound as much as you want!
If you want to experience a rich and optimal balanced sound, check out the Cowon EK2 Earphones now.
Why I recommend this product:
long and durable cord
comfortable ear caps
two different sized ear caps
engraved right direction
optimal balanced sound
Please don't hesitate to contact me if you have any other questions about the Cowon EK2 Earphones. Feel free to send me back your feedback on this great product.
---
Leave a comment