What does Mega Pixels mean for my camera?
Author: Mike Date Posted:28 June 2016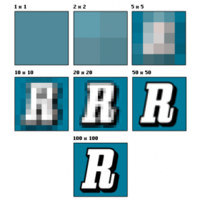 What does Mega Pixels mean for my camera? What is the image resolution for?
Over the last years we've seen the market flow with a new selling pint for cameras: larger image resolution. What does it really mean? How relevant is it actually for a day to day camera user, who is likely to never print a picture on a piece of paper larger than an A4 format?
Yes, I've just talked about paper format. We'll get to that in a paragraph.

What does image resolution mean?
Everybody is familiar with pixels, or not. A pixel is a coloured dot and your images are made up of hundreds, thousands or even millions of pixels. Your image resolution is the number of pixels in your image. The bigger your image resolution, the more pixels compost your image.
The image resolution is also the width x height of your image, in pixels.
So for example if you read 2048×1080, you have an image of 2048 pixels wide by 1080 high.
2048 × 1080 = 2211840 or 2.2 MP.
3840 × 2160 = 8294400 or 8 MP.
How does it work with my PC display?
Your screen is the same, it is a resolution measured in pixels. 1024x768 was standard for a long time but now we have better graphic cards and can easily go to 1920x1080.
So what's the relation with your camera image resolution? Have you noticed that if you display at a 1:1 scale or original, you can only see a part of the image? That's because your screen has a much smaller resolution than your camera.
So what's the point of having such a big resolution?
Technology's evolution is going fast and it's not going to stop! Today you cannot display your image full size but you sure will in a few years.
The big advantage of having such a big resolution is to zoom in! Really? How does that work?
Imagine you are in Sydney Harbour and want to take a picture of the Opera House but your optical zoom is not powerful enough to get all the details. Set your camera to the biggest image resolution it has and when you get home crop the Opera House! At the end of the day, your image resolution is still likely to be bigger than your screen, so you'll have a large image of the Opera House in great quality.
How does it work with printing?
You can print any images to any size paper. A pixel is a square which you can stretch, but if you stretch it too much it will not look good. You'll start seeing the individual pixels; blocks.
Printers have a quality setting called dots per inches (dpi). For a good quality printing, you want to have at least 300 dpi.
Let's do the math; we want to print a picture on an A4 paper sheet.
An A4 measures 8.27 × 11.7 in. (210 x 297 mm)
To have a quality print, we use 300 dpi printing quality.
300 dpi x 8.27 in = 2481 pixels
300 dpi x 11.7 in = 3510 pixels
2481px x 3510px = 8708310px = 8.7 MP
So with a camera resolution of 8.7MP & above you will be able to print a great quality picture on an A4 paper sheet without seeing any pixels.
What is the image size?
The image size is not the image resolution. The image size is in Megabit: Mb or Mbit. The image size is how much space it takes up on a memory card or hard drive.
The larger your image resolution is, the bigger amount of pixels. This results in more space taken up on your hardrive
.
---
Leave a comment